Balfour & Houldsworth Newsletter February 2019
Balfour & Houldsworth Golf Challenge Cups 2019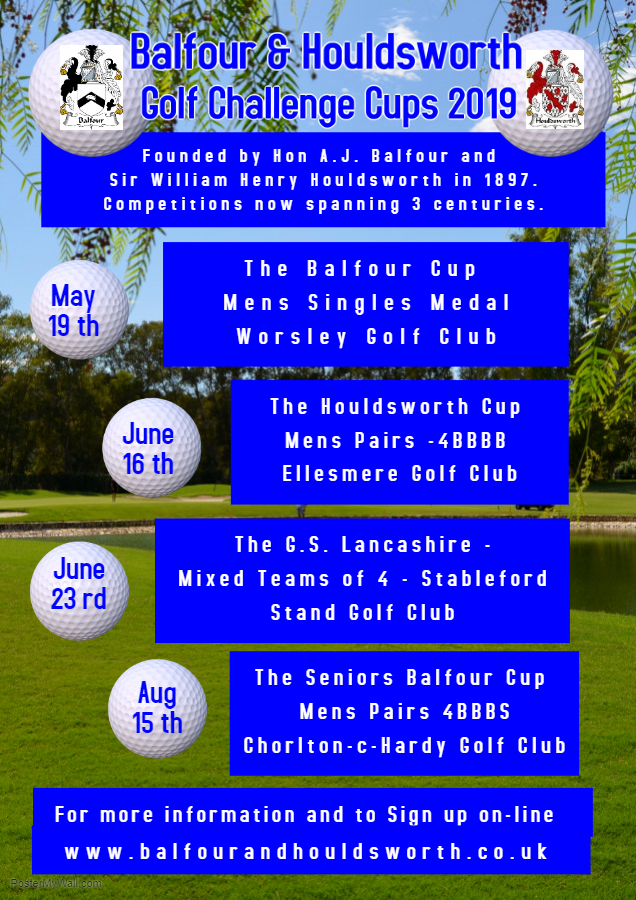 A little bit of history for those who have not been involved in the B&H Competitions:
In 1897 the Hon. A J Balfour and his golfing partner Sir William H Houldswoth decided to set up two competitions to encourage and promote amateur golf across the Manchester area. They invited golfers from clubs within a 20 mile radius of Manchester Town Hall to take part in the competitions. The limit was set at 180 players and the maximum handicap was 4 ! The radius has since been extended to 25 miles and the handicap limits thankfully have been increased. Since those early days two more competitions have been added – The G.S.Lancashire and the Seniors Balfour Cup.
Those who have played in the G.S. Lancs previously will remember it as a Mixed Pairs Stableford. As from 2019 the G.S.Lancs will be a Mixed Team event with the best Lady and the Best Gent score to count on each hole.
On line entry in now available for all four of the 2019 Competitions.
Please use the links below if you would like to enter yourself and your partners in one or more of these competitions.
The Balfour Singles Medal at Worsley Golf Club on Sunday, May 19, 2019
The Houldsworth Fourball Betterball Bogey at Ellesmere Golf Club on Sunday, June 16th, 2019
The G.S Lancs Mixed Team Stableford at Stand Golf Club on Sunday, June 23rd, 2019
The Seniors Balfour Betterball Stableford at Chorlton-cum-Hardy Golf Club on Thurs. August 15th, 2019
Your entry fees will go via the B&H PayPal account. You do not need to have a PayPal account and you will be able to pay by any credit or debit card.
Click here if you would you like to be on the B&H mailing list for information about Competitions and Newsletters?
Reports from 2018
THE BALFOUR CUP 2018
The Balfour Cup was in its 121st year and 96 golfers representing 26 golf clubs had entered the competition at Manchester Golf Club on Sunday 22nd May.
The course was in excellent condition, although strong winds made it a particularly challenging day for many on the day.
David Chesworth (6) from Flixton Club posted the winning score of gross 77, nett 71, following a Card Playoff (CPO) with Robert Faiyaz of Swinton Park Golf Club.
The best gross prize of 74 was scored by Tony Collinson from Disley Golf club playing off scratch.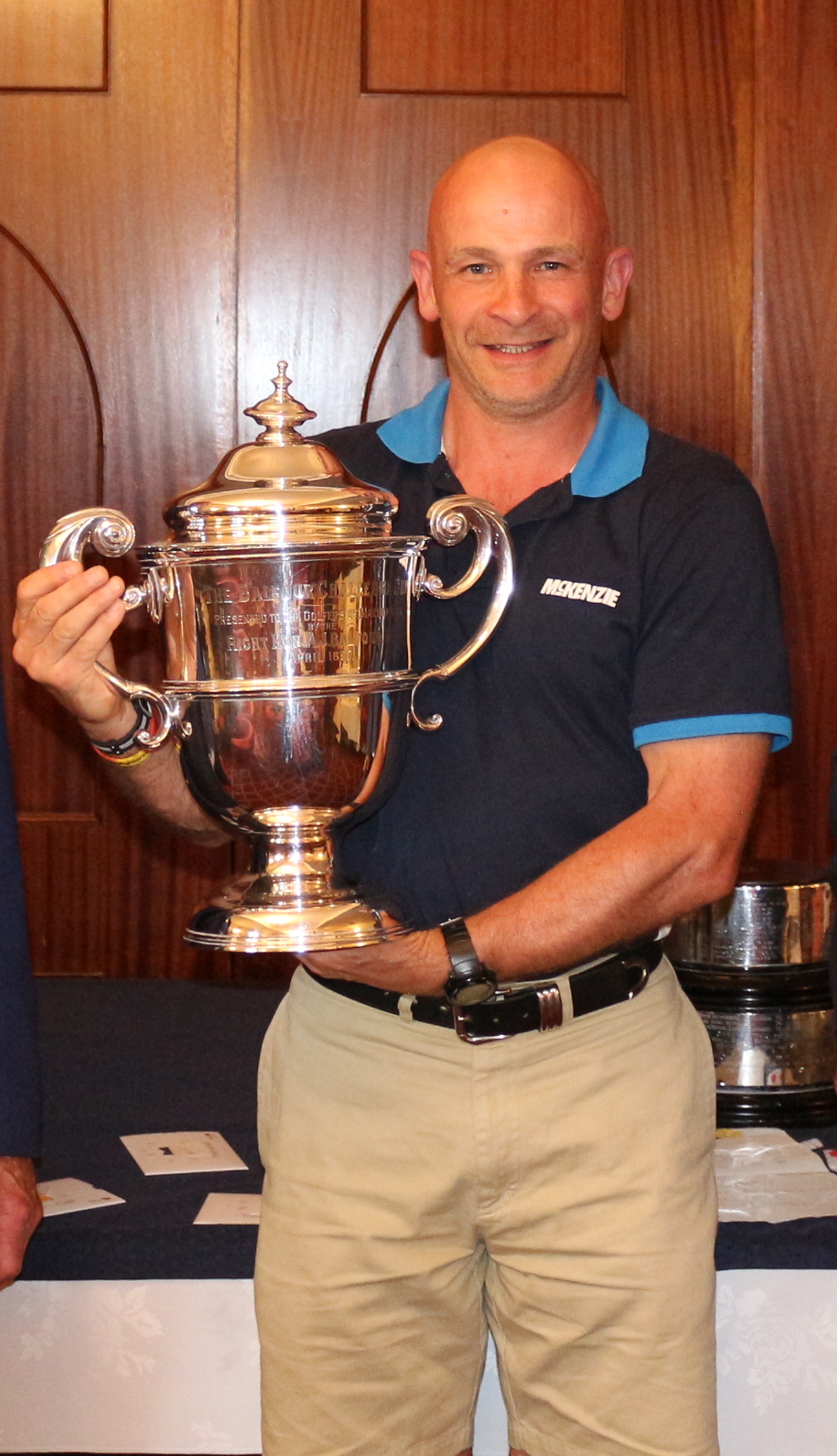 David Chesworth
Third place was taken by Derek Hopkins (13) of Prestwich Golf Club with a nett 74, gross 87, following a CPO with James Parton (5) of Stand Golf Club. James was the 2017 winner but had to settle for fourth place with a nett 74, gross 79.
Players commented on the excellent condition of the course, but many found the wind conditions just too much to deal with. One player said he found it difficult to putt on one of the greens because his ball would not stay still long enough for him to make a putt. Of the 85 players who took to the course only 61 were able to return completed cards. So, although it was a dry sunny day the wind took its toll.
Members and staff of Manchester Golf Club were very helpful to our Committee and the food, hospitality and facilities were all excellent.
The committee would like to thank Manchester GC for their help in making the Balfour Cup once again a great success.
All the results can be seen on our website, click on the link on the front page, or click here for the results
The 2019 Balfour Cup will be played at Worsley Golf Club on 19th March 2019 - click here for online entry
The Houldsworth Cup 2018
The Houldsworth Cup is now 121 years old and was first played for in 1897, when it was won by D G Schofield and J Howie Smith of Disley Golf Club.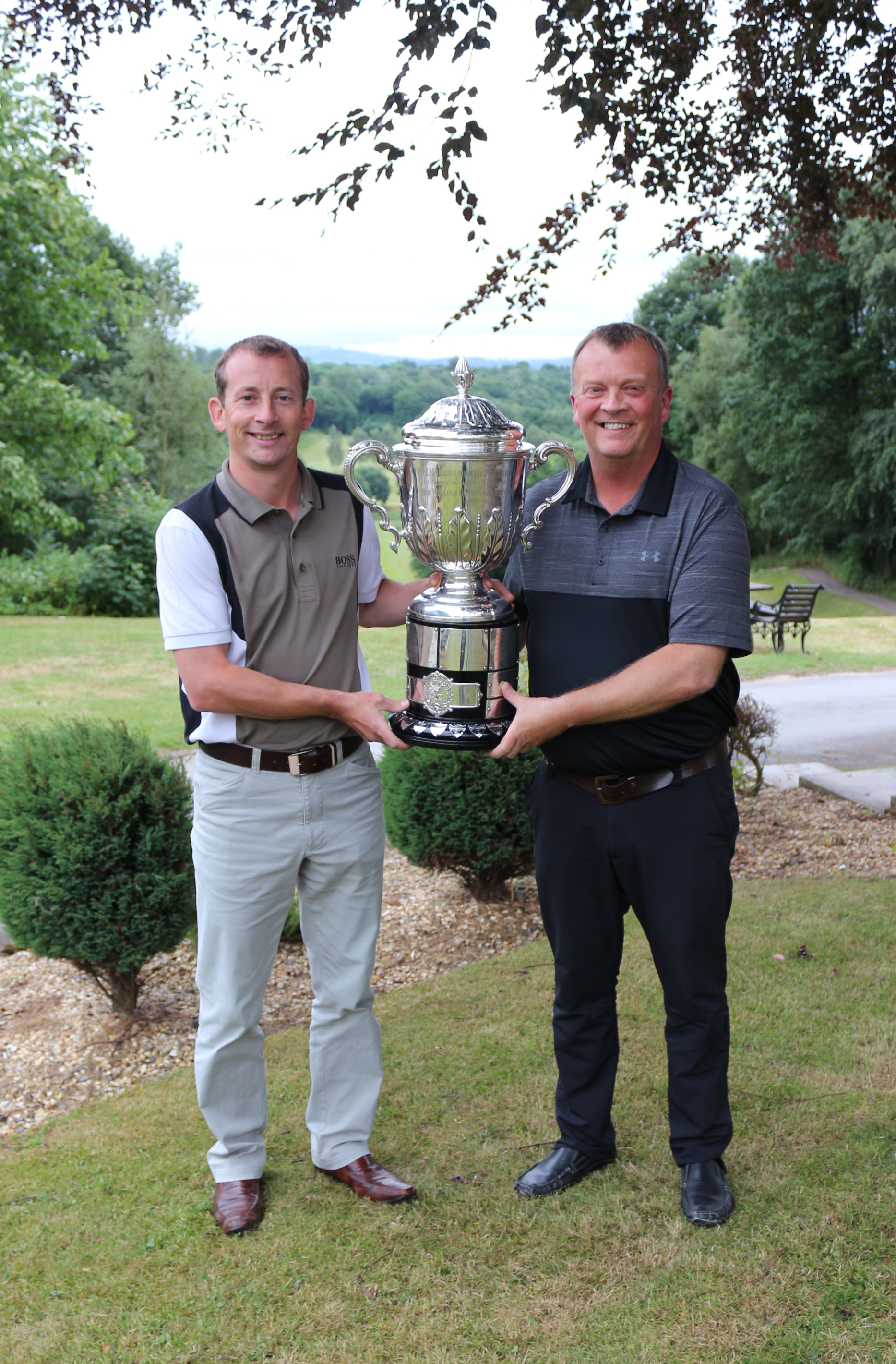 A Jackson and L Smart of Lee Park Golf Club - 5 UP
The Reddish Vale course was in excellent condition as is evident from the high scores which were returned.
A Jackson and L Smart of Lee Park Golf Club came in as late winners with an impressive score of 5 up. Prior to their score being entered there were 5 pairs who had returned scores of 4 up. This led to a card playoff for the next 5 places. The positions were decided upon in relation to the number of wins scored on the back nine then six holes. Thus 4.5 equals 4 up and 5 wins on the back nine holes
1 A Jackson and L Smart of Lee Park Golf Club 5 UP
2 J HILTON & J MANZANO 4.5
3 S RICHARDSON & G BARDSLEY 4.3
4 M WATKINS & P BOOTH 4.2
5 D PAGE & P BARTON 4.2
6 I DENBY & R ELLIS 4.1
The Balfour Committee would like to thank the Council of Reddish Vale Golf Club for hosting this year's Houldsworth Cup and in particular for the help and commitment provided by Dave Sanders, the club manager. We are looking forward to the 122nd Competition which will be held at Ellesmere Golf Club on16th June - Click here for the full results
The 2019 Houldsworth will be held at Ellesmere Golf Club on 16th June 2019 - click here to sign up online
THE G S LANCASHIRE TROPHY - Cancellled in 2018
The GS Lancashire trophy has been running since 1920. The 2018 competition was to be hosted by Flixton Golf club as part of their 125th Anniversary.
Unfortunately, it had to be cancelled for the first time since WWII due to lack of entries.
Past Winners Include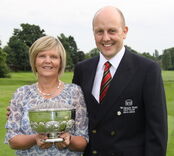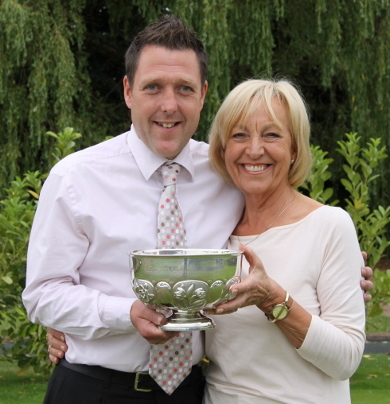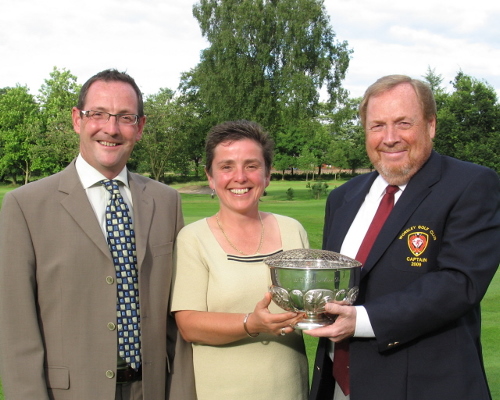 The 2019 GS Lancashire will be played at Stand Golf Club on 23rd June 2019 as Mixed Team Event - click here for on-line entry
2018 SENIORS BALFOUR CUP
The summer of 2018 will live long in the memories of the Seniors taking part in this competition, as one of the hottest and driest along with that of 1976. It did not rain in Manchester for nearly 30 days, which meant that many golf courses in the area and across the country suffered from bone dry fairways. Senior Golfers saw their balls travelling distances reminiscent of their teenage years. "Never thought that I would hit a ball out of sight" said one, but then he did add that he had forgotten his glasses!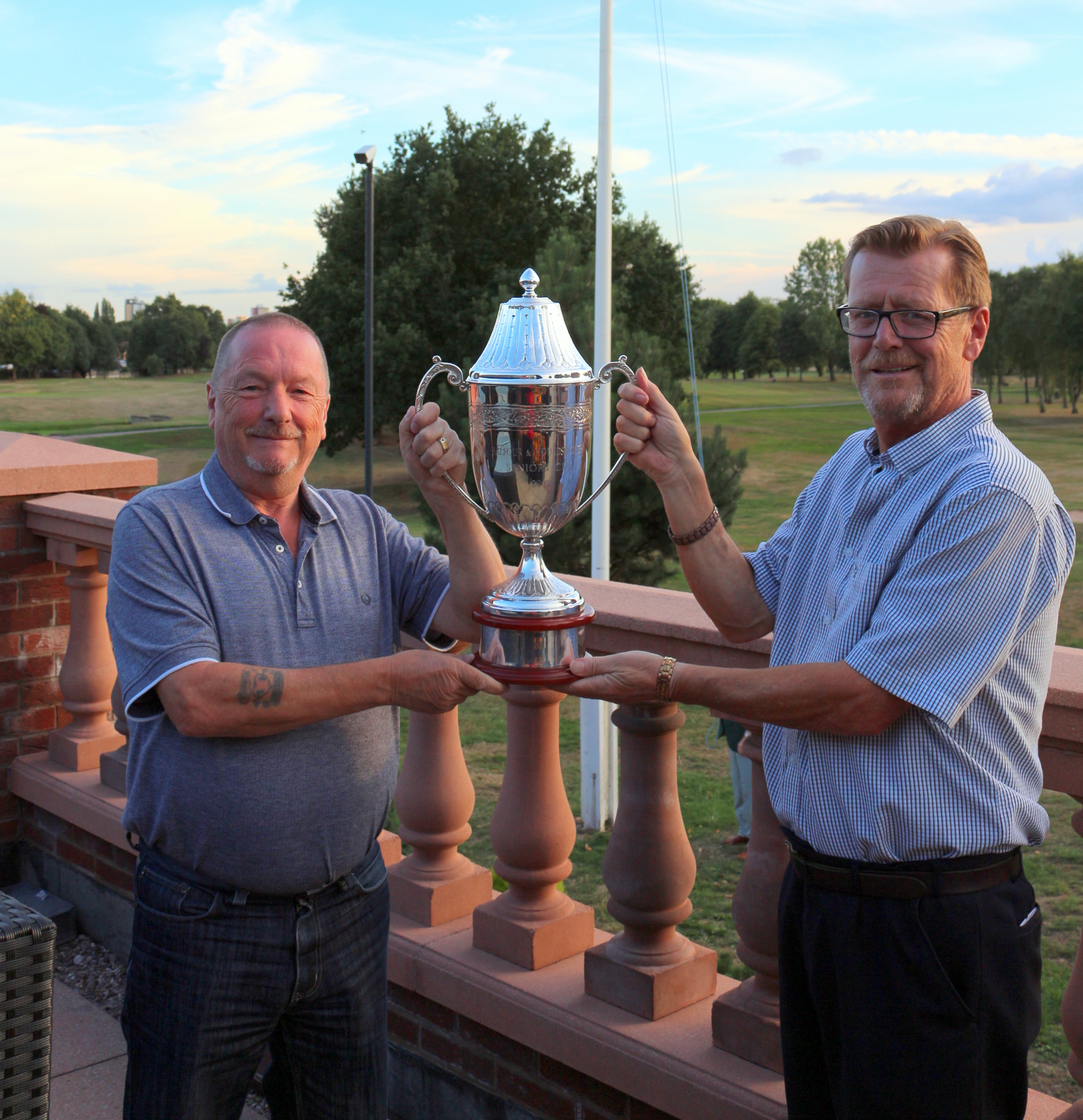 FRANK MASSEY & GEOFF BURGESS
So, dry conditions and warm weather meant that there were high scores coming in across the board at Swinton Park on the day of the Seniors Balfour. Pairs from Swinton Park took five of the top six places on the day along with the winners of the Veterans' Prize. Two pairs came in with scores of 50 points and it needed a card play-off to determine the winners.
1st Frank Massey Swinton Park Golf Club (16) & Geoff Burgess Swinton Park Golf Club (17) 50
2nd Peter Tonge (17) Swinton Park Golf Club & Charles Shul Shin (10) Swinton Park Golf Club 50
What would normally be a winning score with 49 point had to settle for 3rd pace.
3rd Chris Mulhearn Flixton Golf Club (6) & Phil Dearden Flixton Golf Club (13) 49
The Veterans' Prize was won by Bob Sinclair and Fred Parks, again both Swinton Park Members with 46 points.
Intensive campaigning via email and other sources resulted in the entries for the 2018 Seniors' Balfour increasing from 88 at the end of July to 152 on the day of the competition, just a week or so later. Once again, this is something of a new-phenomena, with so many players leaving their entries up to the last week or so before a competition.
The Balfour Competitions Committee would like to thank the Swinton Park Management Committee for the use of the course and the assistance given in making the 2018 Seniors Balfour a very successful day.
Click here for the full results of the 2018
The 2019 Seniors will be hosted by Chorlton-cum-Hardy GC on 15th August 2019 – click here for online entry.